Alicia currently has 4 convalescent homes, Located in La Floresta in the Ajijic-proper area, a very calm and clean area that offers wide open streets and green areas, far enough from the bustling town and celebrations.
Telephone numbers are (from the US or Canada):
Paseo del Lago #7 - 011-52-376-766-3152
Paseo del Lago #57 - 011-52-376-766-3087
Calle de Lago #23, La Canacinta - 011-52-376-766-0721
Juan Alvarez #56 - 011-52-1-3339549534, 011-52-376-766-4140
The Homes are designed for the ambulatory Guests and so are fully equipped with a kitchen, laundry and other facilities for group living. A staff of nurses and maids are on hand to attend to clients. La Floresta #7 is home to Alicia as well, although she and the rest of her family are always in and out of the other homes in the complex making sure everyone is attended to and happy.


Front View At Paseo de la Huerta, this home is right next to Alicia's place.
This is a secured facility, as many of the guests here are stricken with Alzheimer's.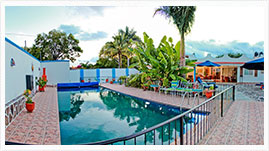 Beautiful and spacious Mexican-style home filled with colorful Mexican art.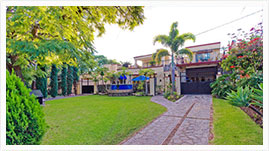 This is Alicia's place at paseo del Lago #7 in la Floresta.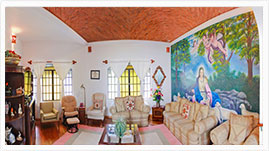 Another view from this beautiful home completely fitted-out for elderly nurse.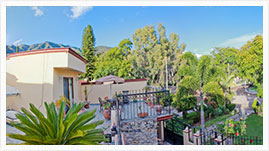 Home entry for one of the Homes at la Floresta.
Paseo del Lago #57 is also a large domicile with many bedrooms, bathrooms and a large wrap around porch, as well as a beautiful pool. The grounds are lovely for visits with clients and gives an aesthetic view and pleasure for the clients.This is also a completely locked facility as many of the clients here are stricken with Alzheimer's. For this concession, special attention is paid to all of the clients by all of the nursing staff at this home.